Club's Activities & Events
Please click here to view our Upcoming events and activities.
Monday Nights: 4 – 7pm .22 Caliber Shooting
Tuesday Nights: 4 - 6pm Pistol Shooting
Thursday Nights: 4 – 7pm Archery inside
Welcome to the Club
The Saranac Lake Fish and Game Club, a non-profit conservation and shooting organization located in Saranac Lake, New York. Our club features an indoor and outdoor shooting range, banquet facilities, firearms training, hunter safety training and many activities and events throughout the year.
The Club House includes an indoor 50 foot range for pistol and .22 rifle. The Club's outdoor range has target placements at 100 yards, 50 yards and 25 yards, with a covered concrete pad firing line. It accommodates multiple shooters firing at targets at different distances. The range is available for rifles and pistols of any caliber and type, as well as for archery.
---
KIDS FISHING DERBY ON FATHERS DAY
Sunday June 18th, 2023:
1. You must register before participating in the derby at the Lake Colby beach house starting at 7:30 am.
2. Participants must be younger than, and not including 16 years of age. The prize categories are for ages: 6 & under; 7-9, 10-12 and 13-15 years of age. Each participant must be accompanied by an adult. For more information, click here
---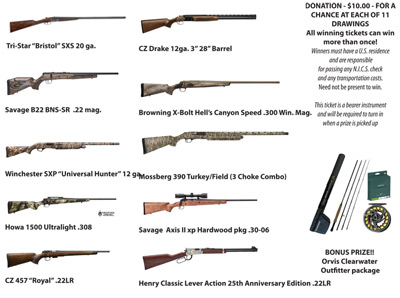 10 GUN RAFFLE AND PICNIC:
The Raffle and Picnic will be held Saturday, September 9th, 2023. Purchase a couple of tickets for a chance to win a brand new rifle or a shotgun. We also are offering an Orvis Clearwater Outfitter Package as a bonus prize!
This is the club's biggest fundraiser for the year and if you would like tickets to sell to your friends. Pictures of the guns can be seen by clicking here.